Oppføring i Markedstorget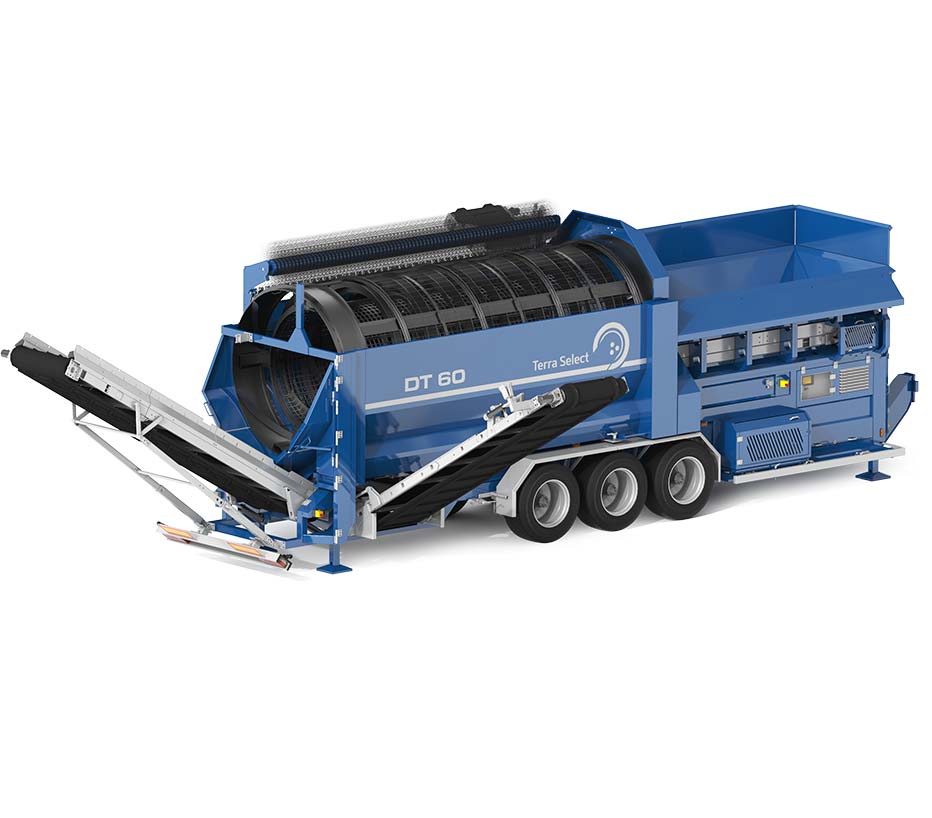 Terra Select DT 60
The Terra Select DT 60 offers you the perfect machine for three fraction screening of biomass, shredded green waste, tree bark and wood chips as well as sand, earth, stones and many other materials. In addition to the coarse fraction, the enlarged screen surface of the mobile double trommel screen also allows for screening of a medium and a fine fraction.
The screening process starts by screening coarse material before fine. The oversize grain is separated directly from the finer fractions, ensuring that the residual volume to be screened is significantly reduced. This allows screening in one operation at an impressively high throughput of materials, such as bark (0 – 10 mm, 10 – 40 mm,> 40 mm), wood chips (0 – 4 mm, 4 – 25 mm,> 25 mm) or rubble (0 – 15 mm, 15 – 80 mm,> 80 mm).
The Terra Select double trommel gives you a quality product that is noted for low susceptibility to wear and therefore the highest durability and service life. In addition to its robust construction, the great mobility is also impressive. Easy to use and flexible to transport, the mobile double trommel screen will prove itself to be a reliable partner in your everyday screening business. Moving and using the screen across operations is also not a problem, as the unit is approved for road use.
Further special features of the double trommel screen are the one-piece conveyor belts, each 6,700 mm long, for the fine and medium grain fractions and a generous filling hopper with a capacity of more than 6 m³.
If you only want to screen two fractions, but wish to achieve higher throughputs than with a conventional trommel screen, then even in this case you will be making the right decision with the Terra Select DT 60 mobile double trommel screen. Because of the sophisticated design of the DT 60, it is compatible with the single drum of the Terra Select T 60. Exchanging drums can be performed quickly and easily when required. The result is two fractions with the highest screening throughput!