Oppføring i Markedstorget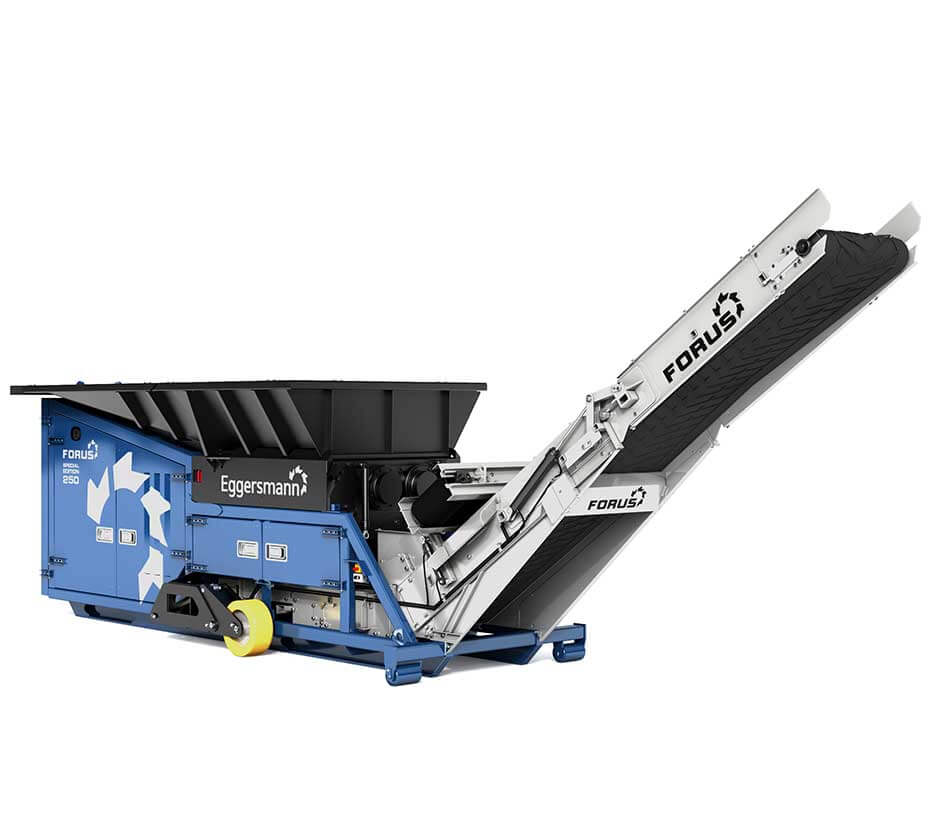 Pre-Shredder FORUS SE 250
Slow-Running Shredder with Two Shafts for Shredding Refuse, Waste and Wood
You may rely on the support of professional equipment for shredding and blending of commercial or electronic waste, or plastic sheet or paper? Or you could be running an agricultural contracting business for the treatment of wood and biomass and are looking for a suitable pre-shredder for material pre-treatment? Alternatively, you might be specialised in shredding and composting of grass and tree cuttings and wish to optimise your plant and equipment? Whatever you need, we can solve the problem! The FORUS SE 250 slow-running pre-shredder is an appropriate choice for the efficient shredding of a wide variety of materials.
The FORUS SE 250 pre-shredder is suitable for all types of refuse and wood. Household, bulk, or commercial waste, plastic sheet, paper and electronic waste are shredded just as effortlessly as reclaimed and demolition timber, green waste and root stocks. Depending on the input material, throughput is between 10 to a maximum of 40 tonnes per hour (household waste: 40 t/h, wood 15-20 t/h, commercial waste 10-15 t/h). The final particle size varies from 0 to 350 mm, and is always dependent on the input material and the crushing beam selected. This can be raised and lowered hydraulically and is available from type A1 to A4, depending on requirements.
The FORUS twin-shaft shredder is available in two different versions. The multifunctional shredding unit has 65 tools and two independently rotating rollers. This is best suited for shredding refuse, commercial waste and wrapping material. The crusher plant, with triangular blades (some 40-80 tools), has two synchronously rotating rollers and is used for shredding of wood and wood-like waste as well as green waste.
The large lift hopper allows for quick and easy filling of the pre-shredder by wheeled loader and is part of the special equipment. The galvanised magnet, above the belt of the slow-running unit is also included. This can also be moved or adjusted using the hydraulic system. Similarly, the galvanised discharge system allows for a material discharge height of 3,200 mm.