Oppføring i Markedstorget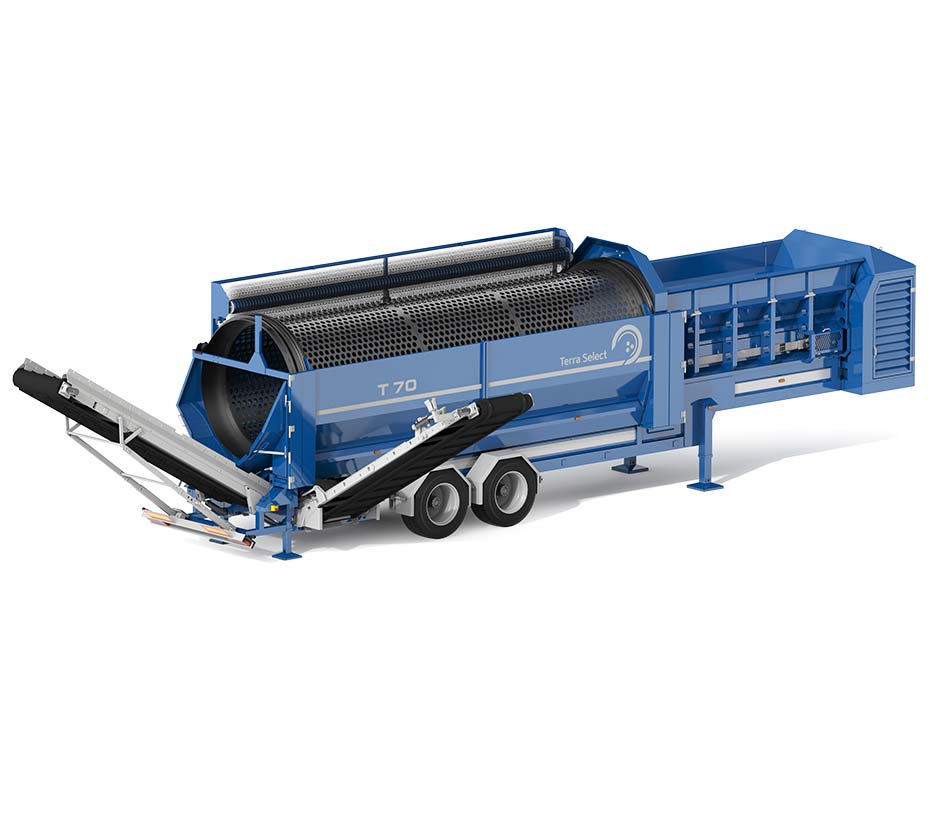 Terra Select T70
The T 70 mobile screen has an impressive drum length of 7,500 mm and a drum diameter of 2,200 mm. With an effective screening area of some 46 m², it achieves sensational screening rates of up to 250 m³ per hour. Even materials that cannot or only be partially screened are ideally processed using the Terra Select trommel screen.
Mobile screening can be really easy – you just need the right machine! Right from initial filling of the large feed hopper, the impressive features of the T 70 trommel screening machine are evident. With a capacity of more than 6.5 m³, the hopper can be simply loaded with a wheeled loader and allows for an uninterrupted screening process. The powerful hopper belt is toothed to prevent slippage, even with heavy materials, while at the same time providing a uniform feed of material to the screen drum.
The unique differentiating feature of many Terra Select machines is the optional, extra-long fine grain belt. This complements the extensive level of standard equipment fitted to the T 70 trommel screen, along with many other optional extras available to customers, such as a magnet roller or radio remote control. With the extra-long fine grain belt (8,060 mm), the bulk cone formation is increased by up to 80% compared to conventional fine particle belt lengths. Due to the greater spacing between the screened material and the machine, manoeuvring with a wheeled loader becomes an uncomplicated task for the operator.
And that makes mobile screening a pleasant operation. In addition to the impressive screening performance and wide range of technical features, the maximised mobility and flexibility of the T 70 trommel screen make it highly attractive. When fitted with the optional swivelling draw hitch, the machine is particularly easy to manoeuvre. Designed to make it an articulated trailer, the machine is quick and easy to move around, making it ideally suitable for use across business operations. And of course, the T 70 trommel screening machine is also approved for road use.